2022 OPEN STUDIO REGISTRATION
Jump to Application | Jump to Payment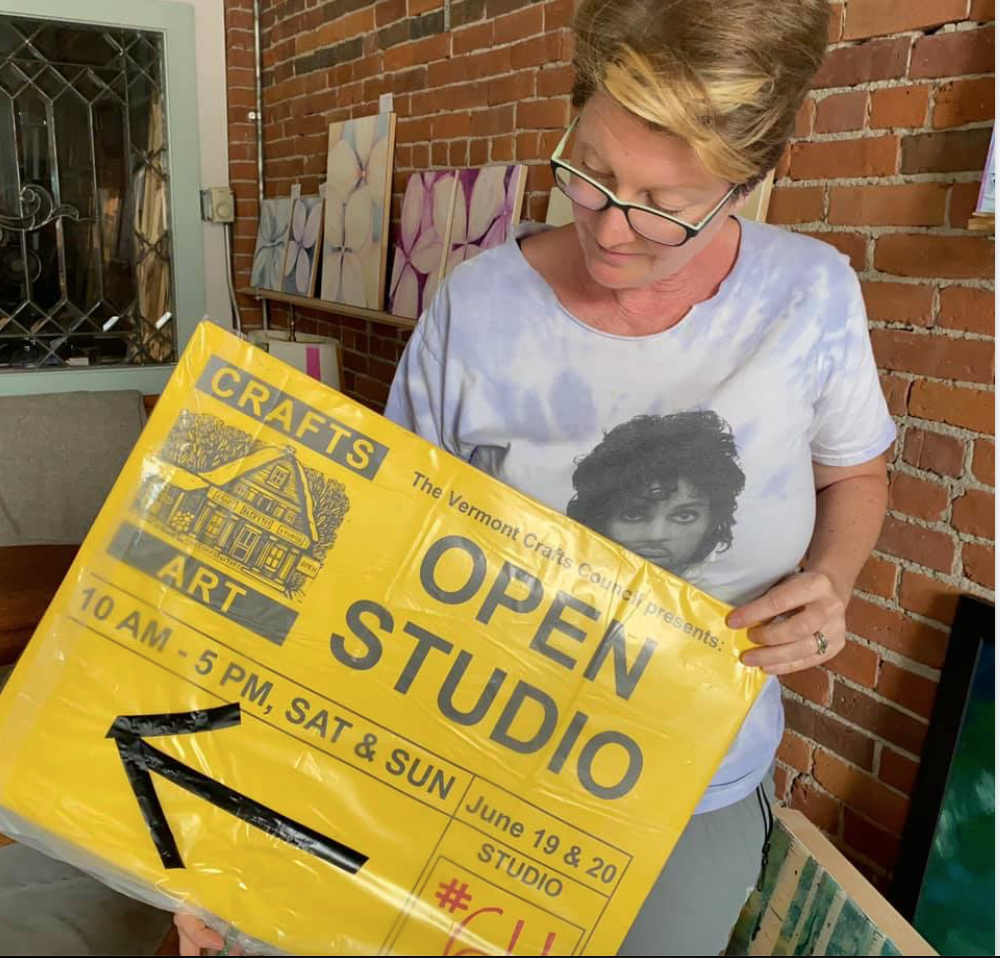 Image: Katie O'Rourke in her Montpelier studio.
2022 Spring Open Studio Weekend – May 28 & 29. Our 30th Spring Open Studio
2022 Fall Open Studio Weekend – October 1 & 2.
Who Can Register – Vermont visual artists and craftspeople, galleries, and educational sites, who are VCC members, may participate. Authenticity and quality are at the heart of the event.
To take part in a Vermont Open Studio Event you must:
Be present in the studio for the entire designated time 10 – 5 each day.
Follow Covid-19 safety guidelines regarding masks, sanitizing, and social distancing.
Distribute promotional materials including maps, posters and signs
Create personal promotion, postcards, social media posts, personal invitation, etc.
Be a current member of the Vermont Crafts Council
Pay an Open Studio registration fee
What We Will Do
Print, and distribute to artists, wayfinder yellow signs, posters 

and other promotional materials

Design and print a map booklet brochure with pictures of artwork, maps and directions to studios

Distribute map booklets to small galleries and a group of the Vermont rest areas on I-91 & I-89.
Create online maps with Open Studio locations
Promote Open Studio through radio ads
Promote Open Studio through posts on Facebook and Instagram
 What You Pay
Fees – $130 or ($65 for Guest)
What You Get
A map number and marker on the map in the map booklet, with a listing in the directions section
If you are a Guest Participant you will share your host's number and map marker.
Signs, posters, and maps
General promotion for the event
Support for your own Open Studio
More Details
Support and Tips for Open Studio Registrants
As an Open Studio participant, you will receive weekly support emails containing tips for creating a successful Open Studio event.
See the Participant Resources page, to find specific suggestions for promotion and readiness for Open Studio, before and during the event. We post to Instagram and Facebook frequently and have a FB group for participants.
We share videos with Vermont artists on getting ready for Open Studio and with low cost graphic design production.
Two Types of Online Maps
Map Booklet PDFs – County maps and individual directions can be downloaded from our Visit Open Studios page.
 Google Map – With your name and contact information.
Two Kinds of Yellow Signs: Included in our promotion support are large yellow paper signs, and smaller yellow rectangles, both of which require weather proofing. Large plastic, permanent signs may be purchased below (note that these trademark signs must only be used in connection with your participation in our Open Studio events). The purchase includes wire frames for support and insertion into the ground.
Important Notes:
a. Only members can register for Open Studio Weekend.
b. In order to be a "guest" the host site must be registered for Open Studio. 
c. As a participant, you are responsible for getting Open Studio maps, posters and signs from someone in your area or from a distribution site, though we try to organize this for local groups. You may also pay to have materials shipped to you.
d. If you withdraw – Please contact us as soon as you suspect you have a conflict. Depending on the timing, you may get a credit for another Open Studio event.
e. If we cancel the events, we will refund all Open Studio fees (not member fees) except for a $30 administrative fee.
Open Studio Form
You will see a success message when the form has been successfully completed. Once the form is submitted, please make the appropriate payments below-
Plastic Yellow Signs (paper signs no charge)
Ad in Map Booklet (Design Included)