Spring Arts Marketing Conference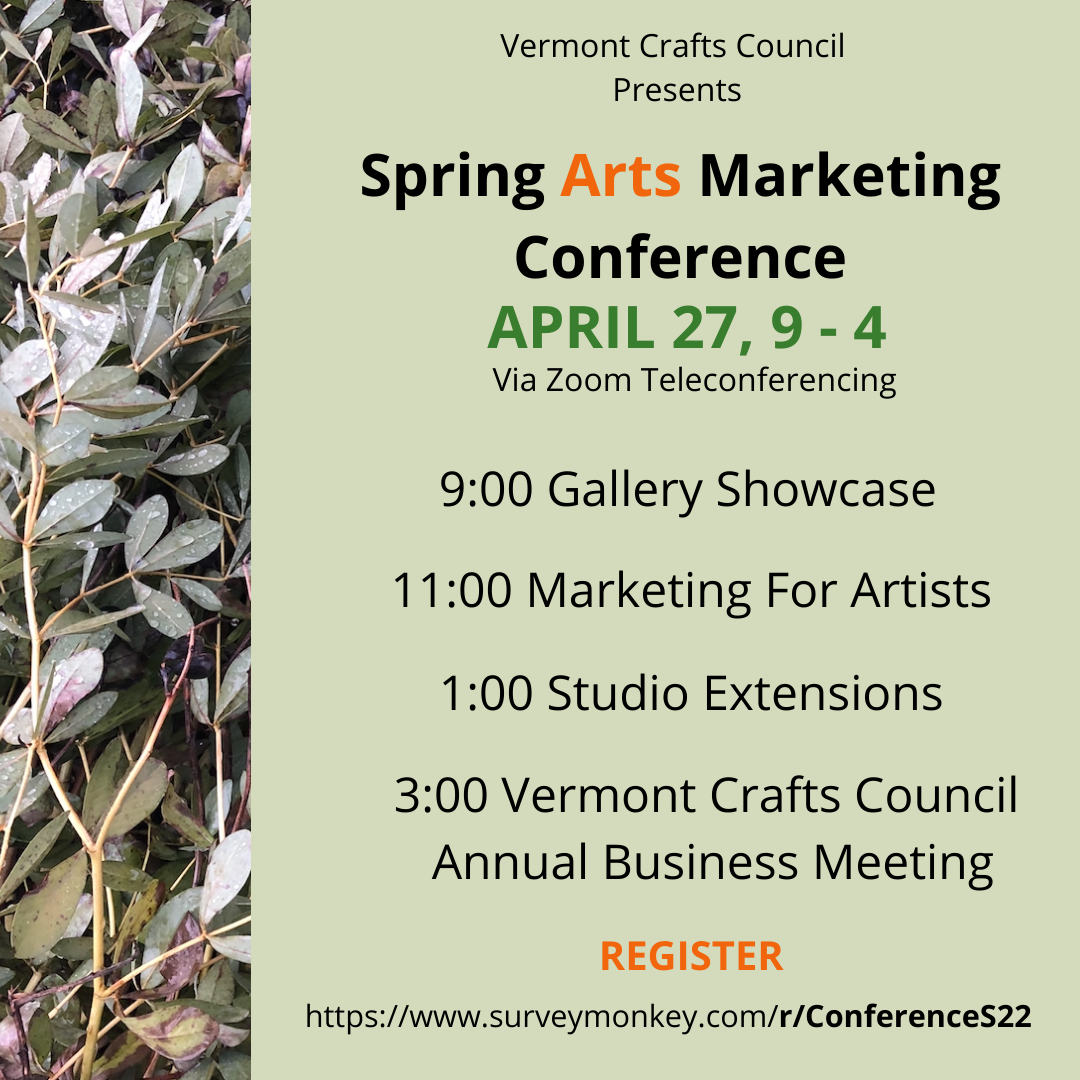 9:00 Gallery Showcase
Find out more about these small artist-run, Vermont galleries, their structure, and how to become an exhibitor.
Art Etc – Andrea Melville
Art on Main – Bristol, Terry Racich
Artisans Gallery – Waitsfield, Abby Dreyer
Artisans Hand – Montpelier, Hannah Mitchell
Center for Arts and Learning – Montpelier, Phayvanth Luekhamhan
Collective – Art of Craft – Woodstock, Marcia Hammond
Epoch Vermont Artisans – Manchester, Debbie Miller D'Ericco
Frog Hollow – Burlington, Daniel Zeese
The Front – Montpelier, Glenn Hutchinson
Gallery at the Vault – Springfield, Diane Kemble
North East Kingdom Artisans Guild – St. Johnsbury, Amanda Weisenfeld
Studio Place Arts – Barre, Sue Higby
Vermont Artisan Designs – Brattleboro , Greg Worden
11:00  Marketing Panel
Hear from 3 marketing specialists about resources at the state level and what you could be doing for your arts business.
Sara Difillipi – Sara DeFilippi is the Trade & Partner Relations Manager at the Vermont Department of Tourism & Marketing. In this role, she works with tourism partners all over the state to ensure they understand how they can work with the Dept. of Tourism. Sara also manages international marketing for the department as well as the department's presence at the Big E fair every fall.
Amy Cunningham – Deputy Director -Vermont Arts Council: Amy directs the programs team, manages the Vermont Creative Network, and is the contact for national advocacy efforts. Amy has worked for more than 15 years in leadership positions in Vermont cultural and educational nonprofits. Her educational background is in U.S. history and museum studies.
Lynn Barrett – Lynn S. Barrett is former director of communications for CBS Sports, founder and president of Primetime Concepts, Inc., a specialty public relations and publishing company. She is currently citizen's commissioner for tourism, Windham Regional Commission; board member of BCTV, President of the Board, VIM/The Commons, and Editor of Okemo Valley Magazine.
1:00 Studio Extensions
Hear from these artists who had added lucrative dimensions to their arts businesses beyond their studio work.
"Recorded Online Courses as a Studio Extension"
Elissa Campbell is a bookbinder who will talk about her experiences teaching online. In addition to teaching for book arts organizations, she also has her own online school, Bind Hive, which is hosted on the Teachable platform. Elissa is the owner at Blue Roof Designs in Montpelier VT.
"Live Streaming as a Studio Extension"
Jessica Putnam-Phillips is a ceramic artist, USAF veteran, and educator. She actively promotes ceramic art and education and is the founder of ClayShare.com, an online streaming platform for ceramic learning.
"Weaving Clubs"
Dena Moses – Vermont Weaving Supplies. Dena will talk about her weaving clubs and what makes them exciting for the members while also being a scalable and profitable business model. From the perspective that the skills involved in making and selling craft can transfer to other ventures, she will discuss how to evaluate what is working and not working in your business, and how to use your creativity and ingenuity to vision and create a craft business that is easier and more profitable.
"Teaching Online Kids Classes"
Katie O'Rourke is a Montpelier based artist working in acrylics and oils.  She teaches acrylic painting classes to both children and adults. With a growing number of families choosing to homeschool, there are endless opportunities to teach online classes. Katie's studio is Upstairs Art Studio.
"Teaching on the Road"
Ruby Leslie – Ruby Charupy Weavings. Ruby teaches workshops at fiber conferences and craft organizations throughout the US. She'll talk about what is involved in getting the gig and teaching as a guest artist and instructor.
3:00 Vermont Crafts Council Annual Business Meeting
"Moving Away From Wholesale"
Steve Bronstein – The world around me is changing I have to be ready to respond. I am currently moving away from my wholesale production line and pursuing more teaching opportunities that I can run from my shop. I will be sharing how I have made that transition and what a typical class setup might look like. Steve is the owner at Blackthorne Forge in Marshfield VT.
3:00 – Vermont Crafts Council Business Meeting – see Agenda and Documents