Is Open Studio Right For You?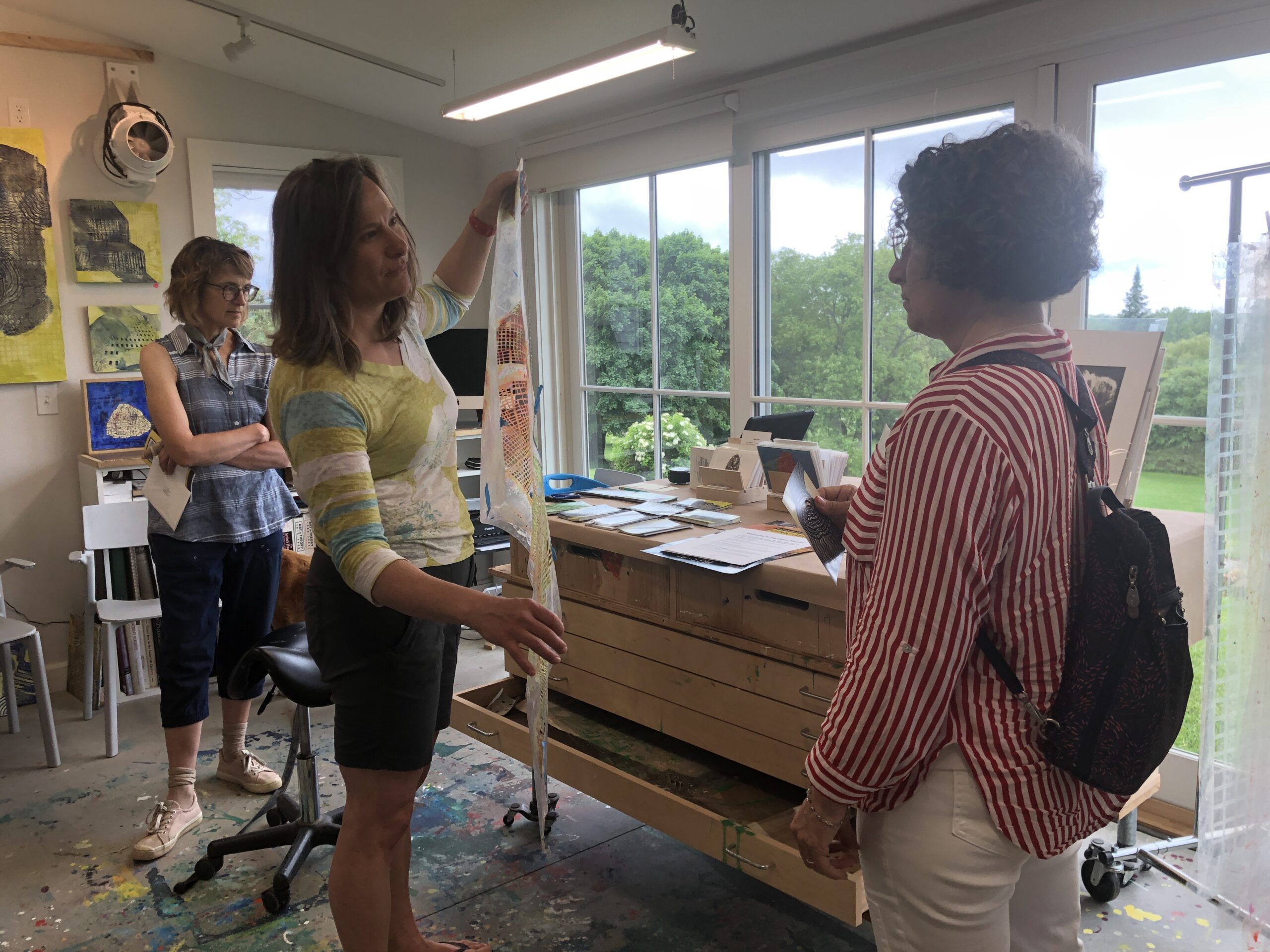 Image: Jessica Scriver speaks to visitors in her studio.
Is Open Studio a Good Fit For You?
Open Studio is a reasonably flexible event where visitors travel to an "art" site expecting to see a working studio, talk with the artist and purchase artwork.
In our 30 years of experience, these are the most successful, or "best fits" for this event both for artists and for visitors.
Artists who consider themselves to be professional Vermont artists working within one or more of these main art media: clay, metal, fiber (weaving, quilt making, dyeing, spinning, rug hooking), wood, paper arts (book making, printmaking, drawing), and glass. Painters, sculptors, and other "fine" artists are also included.
Artists who have a separate studio where they create their work that can be made safe and accessible for visitors. This can be located in your home as long as you are comfortable having people visit you there.
Artists who are willing or even happy to talk about their work and process. (Open Studio is an active event.)
We also include these art sites.
Galleries that exhibit a high percentage of Vermont made artwork and that will have special exhibits for Open Studio.
Art Centers that have a year round schedule of exhibits and classes, with an arts education mission and programming.
Sites that need our "okay"
Group sites where some artists are registered but many others are not.
Pop-up galleries just for Open Studio.
Retail establishments that can best be described as "gift shops" and where the majority of work exhibited is not made in Vermont.
Who is a "Professional' Artist?
Someone actively exhibiting and/or selling their artwork.
Someone who has submitted work to professional organizations or juries and has been accepted by them.
Someone who has specialized training in their artistic discipline and is seriously committed to mastering art skills. This person may have post high school study or study with professional artist mentors and devotes significant time to their artwork..