42. Karen Deets Stained Glass. Panels, jewelry, supplies, mobiles, garden art. karendeets.com.
43. Beth Murphy Botanicals. Pressed botanicals, mixed media collage. bethmurphybotanicals.com.
44. Stragnell Art – R Sanford Stragnell. Unique sculptures inspired by nature.
45. Merwin Gallery – Tom Merwin. Oils on canvas, sumi ink drawings. merwingallery.com. 
46 – 48 Located on Loop 7.
49. Twin Elms Studio – Hallie Monroe. Vitreous painted stained glass. twinelmsglass.com.
50. Carrie Pill. Vibrant, Vermont-inspired, oil paintings. carriepill.com.
51. Ann McFarren. Original Vermont scenes, oil, watercolors. annmcfarren.com.
52. Shattuck Studio and Gallery – Carolyn Shattuck. Book arts, printmaking and collage. shattuckgallery.com.
53. Jennie Johannesen. Pastel bird paintings.
54. Birren Kirby – Anne Birren Kirby. Watercolor, acrylic, oil paintings. birrenkirby.com.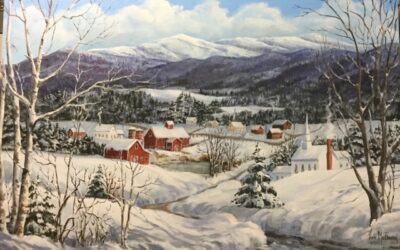 Ann McFarren Paintings Paintings - Oil and Watercolor Map # 51 For over 50 years, I have painted the Vermont landscape with its trees, mountains;...
read more