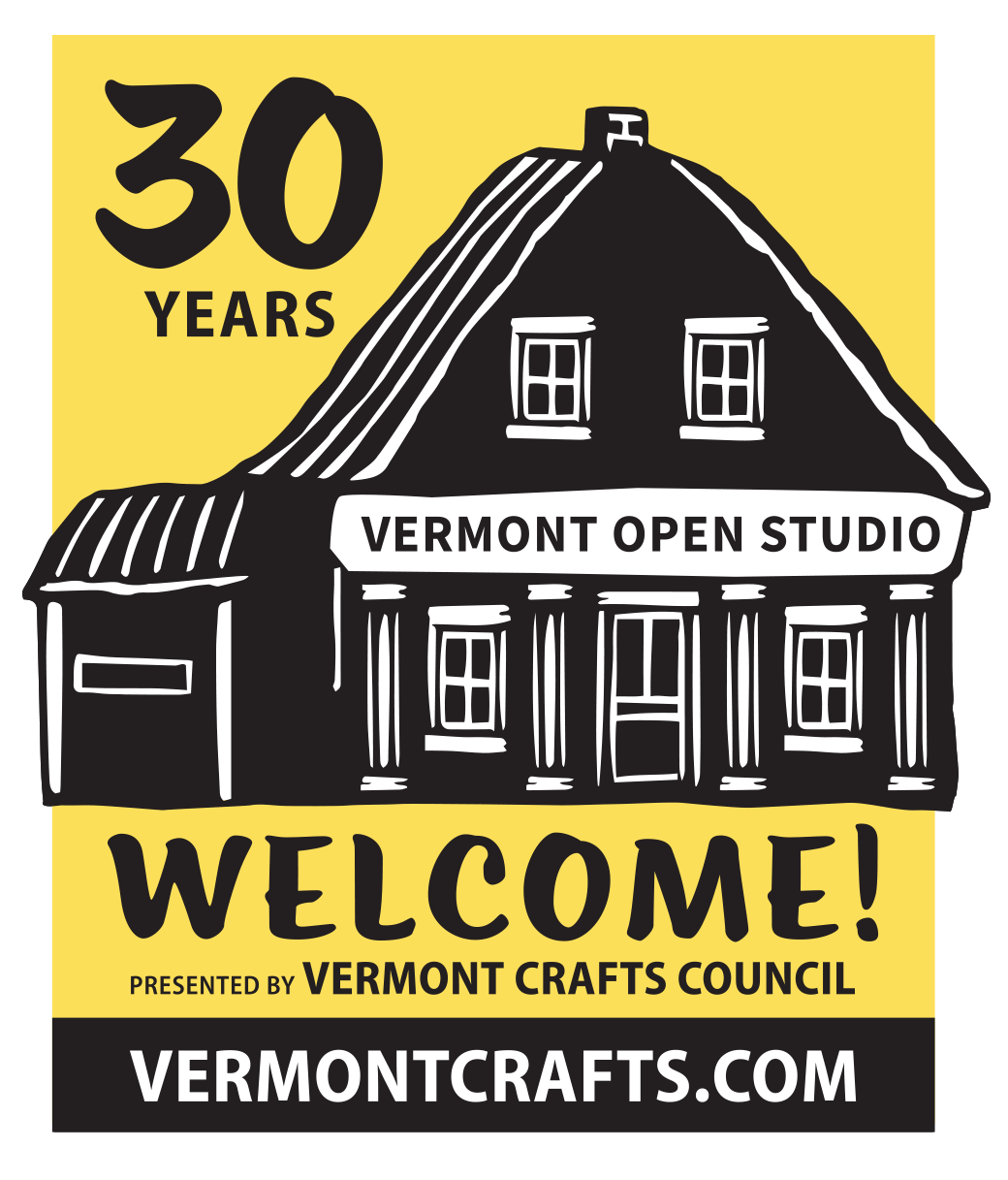 2022
30 years of Vermont Open Studio Weekend
Next Up: Fall Open Studio 10/1 & 10/2
Vermont Open Studio Tour Celebrates 30 Years
The second Open Studio Weekend in the celebration of our 30th year will be held during Saturday and Sunday of October 1 & 2 from 10 – 5 each day. It gives visitors and collectors the opportunity to plan a tour that brings them through the small towns of Vermont to studios where they can purchase beautiful well-made things and talk with the artist that made them.
Open Studio Weekend is a celebration of the creation of craft and artwork and the work life of Vermont artists. With a focus on the studio, including work space and materials, the event aims to illustrate both that creating art requires an investment of time, specialized tools and equipment, and that the process is accessible and rewarding.
The Vermont Crafts Council holds that creative problem solving is an essential human skill that will be strengthened with engagement with non-digital materials, clay, wood, metals, glass, felt, thread, cloth, paper, and paints. The history of craft traditions in Vermont presents a window into past community life that is again being embraced by a new generation seeking a grounded connection to handmade, functional artwork that is used in everyday life.
During the two day event, artists, statewide, open their studios to visitors to discuss and demonstrate their work. Visitors can purchase work directly from the artist, often choosing from a wider selection than is available online or through galleries. Many artists will accept custom orders and offer seconds and discontinued designs for sale on this weekend. Visitors can also use the tour to visit over twenty small galleries and art centers that exhibit and sell the work of a variety of local artists. Each small gallery has its own collection of local artisan work. Several of these centers will feature groups of artists and themed displays and special sales for the weekend.
Glass blowers, potters, metal workers, jewelers, weavers, painters, woodworkers, photographers, book artists, printmakers, felt makers, dyers, basketmakers and rug hookers are among those that invite visitors to come behind the scenes into their studios. Ask questions, view demonstrations and purchase original handmade artwork. A key part of the Open Studio experience is planning your own route through the Vermont countryside at the end of May when it is transitioning from spring to summer. Use the printed map booklet, available at many Vermont information centers and rest areas, or download it from vermontcrafts.com. Also available there is an online google map which is updated with the latest information, and artist pages with information and pictures of artwork.
Vermont Open Studio – 1992 – 2022
The idea for the first event came out of a statement by Charley Dooley of Craftproducers, then chair of the Vermont Crafts Council board. He was discussing the "invisibility" of craft artists as they work in their studios out of the public eye, unlike farmers, teachers, or health care professionals. He declared "Craftspeople are your neighbors!" and that became the slogan for the event. The first event included 103 craft studios. At that point the Vermont Crafts Council was only open to artists working in the five traditional craft media, clay, fiber, glass, metal and wood.
"Initially, the concept was almost revolutionary, getting the whole State, above and below route 4, to cooperate on a single event. At the time it was a big deal attracting State support from Travel and Tourism and even major sponsors like Cabot." Charley Dooley – Craftproducers
But how do we get there?
Thirty years ago there was no internet, no smart phones, and no wireless networks. There was also no 911 network in Vermont yet and often roads in rural places did not have signs. There was no event map booklet to guide the way.
"Looking back on that first year, I think we were successful because we did not realize how enormous and impossible the task was, to create a statewide event happening in rural studios.", said Martha Fitch, executive director. "The Vermont Department of Tourisim worked with us to create the event and provided a staff member to help. This person kept asking anxiously 'But how will visitors find their way to the studios?'. It seemed clear to us." Fitch said. "They would simply go to the town center and ask directions." In support of this plan, several small galleries around the state were recruited to act as "information centers" where visitors could go to find out about local artists participating in the tour. "We also relied then as we do today, on the artists using their networks to promote the event to their customers.".
The first Open Studio Weekend was a mixed success with some studios receiving many visitors and others none. It was clear, though, that the event held great potential. The second year brought maps and directions in a printed newspaper format, and the now classic wayfinder yellow signs. During the third year, the event was opened to painters and other artists working in non-craft media. This group had argued that they too, had studios and therefore should be included. In our fourth year, we added small galleries to the mix because visitors wanted sites where they could see a range of artwork at one stop and we were happy to introduce them to shops that were open year round.
A Second Open Studio – 2011
After requests from both artists and visitors, a second Open Studio event was added in 2011 for the first weekend in October. Unfortunately, Tropical Storm Irene hit the state about five weeks before the event, destroying many of the roads and bridges the public would need to visit studios. In 2020, Fall Open Studio was also canceled due to Covid safety concerns.
The Challenge of Covid
In March of 2020, Governor Scott shut down the state. The Vermont Crafts Council cancelled Spring Open Studio for the first time in its history. For the visual arts community that participated in Spring Open Studio, Covid essentially wiped out all sources of income except for online sales. The element that makes Open Studio unique is the opportunity to talk with artists, face to face, but this now became an insurmountable liability. Many artists were not equipped to fully take advantage of selling online, not having a website or one that could handle online sales. After we cancelled the in-person event, we created one of the first online events that featured images of makers and artwork, but it did not replace the traditional studio visit.
Enduring Connections Renewed
Stretching from the Arts and Crafts movement in the mid 1800s in England, an element of the attraction of hand made artwork is its contradiction of the mass market, machine made, and ubiquitous object. In Vermont this was a strong component of the "back to the land" movement of the 1960's and 70's when many of the long time participants in Open Studio set up their studios. Now, as a new generation embraces hand made, repurposed, utilitarian, local and limited production work, these artists are joining Open Studio too.
Artists Talk About Open Studio
Katie O'Rourke, Katie O'Rourke Art, Montpelier – "I am a new participant to VOSW and my biggest take away was how far the VOSW reach is.  We had visitors from all over New England plus all the way from California and Washington State.  Visitors were genuinely interested in our processes, the workings of our studio and our art.  We had deep conversations, made friends, and sold some art!"
Andy Snyder, Mud Puppy Pottery, Orwell – "I live off to the side of "the middle of nowhere!" I am indeed off a dirt road in a remote but lovely part of Vermont. My studio is on the shore of lakes Sunrise and Sunset (you can't make this up!). I adore when customers come to visit during Open Studio by canoe or kayak. Upon purchase they ask if I can wrap the work so that it will survive the paddle back across the lake. I am only too happy to!"
Michelle & David Holzapfel, Applewood's Woodworking Studio and Gallery, Marlboro – "We've come to realize that Open Studio is a seed-bed for us.  We see it primarily as an opportunity to show visitors our work, to explain our processes and engender a deeper appreciation of trees and their beauty when revealed through our efforts.  Because we need to sell work in order to keep making work, Open Studio helps to cultivate clients and grow relationships."
Elissa Campbell, Blue Roof Designs, Montpelier – "I have repeat visitors who buy something similar each time they stop by – my scrap bags are especially popular. Most visitors, however, are new to my work. In general, my visitors have been more interested in the stories behind the work, rather than in seeing demonstrations. This works out well because I'm a talker. In addition, many of my books include their own stories. People enjoy sticking around for a while, reading my artists' books, and soaking in my strange sense of humor. Witnessing people's reaction to my work has been very validating."
Shannon Parker, Wisdom River Design, Chester. "As a young creative, growing up in Vermont, VCC's Open Studio Weekend was always one of my favorite events to attend. I remember visiting the studio of glass blower, Nick Kekic, and I was entirely enthralled & inspired by his space & the beauty that was being created there. I distinctly recall thinking, 'I'd love to do that someday', and here I am, 20 years later, a full-time, Vermont maker. I have no doubt that the Open Studios experience had an impact on the direction of my professional life."
Open Studio Weekend, May 28 & 29, welcomes visitors to over 130 sites across Vermont from 10 to 5 each day. More details about the artists, including pictures of their work, is available at Vermontcrafts.com. Pick up a Vermont Studio Tour Map booklet at travel information centers on I-89 and I-91 or request one from our website.