For Immediate Release
March 3, 2023
Contact: Martha Fitch, Director
cell: (802) 279-9495 work: (802) 223-3380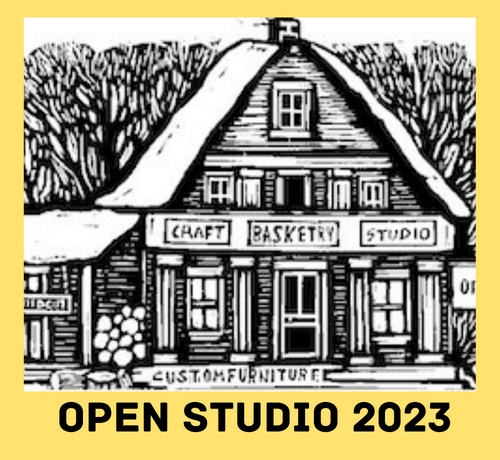 Vermont Open Studio Tour Celebrates 31 Years
May 27 & 28, 10 – 5
The thirty – first year of Vermont Spring Open Studio Weekend will be held during Saturday and Sunday of  May 27 & 28, from 10 – 5 each day. Visitors will have the opportunity to plan a tour that brings them through the small towns of Vermont to studios where they can purchase beautiful well-made things and talk with the artist that made them.
Open Studio Weekend is a celebration of the creation of craft and artwork and the work life of Vermont artists. With a focus on the studio, including work space and materials, the event aims to illustrate both that creating art requires an investment of time, training, and specialized tools and equipment, and that the process is accessible and rewarding.
The Vermont Crafts Council affirms that creative problem solving is an essential human skill that will be strengthened with engagement with non-digital materials, clay, wood, metals, glass, felt, thread, cloth, paper, and paints. The history of craft traditions in Vermont presents a window into past community life that is again being embraced by a new generation seeking a grounded connection to human, handmade, functional artwork that is used in everyday life.
During the two day event, artists, statewide, open their studios to visitors to discuss and demonstrate their work. Visitors can purchase work directly from the artist, often choosing from a wider selection than is available online or through galleries. Many artists will accept custom orders and offer seconds and discontinued designs for sale on this weekend. Visitors can also use the tour to visit over twenty small galleries and art centers that exhibit and sell the work of a variety of local artists. Each small gallery has its own collection of local artisan work. Several of these centers will feature groups of artists and themed displays and special sales for the weekend.
Glass blowers, potters, metal workers, jewelers, weavers, painters, woodworkers, photographers, book artists, printmakers, felt makers, dyers, basketmakers and rug hookers are among those that invite visitors to come behind the scenes into their studios. A key part of the Open Studio experience is planning your own route through the Vermont countryside at the end of May when it is transitioning from spring to summer. Use the printed map booklet, available at many Vermont information centers and rest areas, or download it from vermontcrafts.com. Also available there is a link to a google map that is updated with the latest participant information.
Open Studio Weekend, May 27 & 28, welcomes visitors to over 155 sites across Vermont from 10 to 5 each day. More details about the artists, including pictures of their work, is available at Vermontcrafts.com. Pick up a Vermont Studio Tour Map booklet at travel information centers on I-89 and I-91, from participating artists or request one from our website, .
###