86. Wisdom River Designs – Shannon Parker. Precious metal gemstone jewelry. wisdomriverdesigns.com.
87. Cleopatra Redbird – Cleopatra Griffin. Delicate plant and animal illustrations. cleopatra-redbird.com.
88. Amy Mosher Art. Winter Twilight Landscapes & Farm and Garden paintings. mymosherart.com.
89. Gallery at the VAULT – Vermont State Craft Center. Craft and fine arts in historic 1907 bank, exceptional artisans. galleryvault.org.
90. Robert O'Brien Watercolors. Watercolor paintings and prints. robertjobrien.com.
91. Mason House Pottery – Christopher Wuttke. Pottery studio and sales shop. masonhousepottery.com.
92. Fletcher Farm School for the Arts & Crafts  – Society of Vermont Artists and Craftsmen, Inc. Vermont's oldest residential craft school hosts demonstrations. fletcherfarm.org.
93. Russ Hurlburt Photography –
Vermont photography, handmade frames. 
russhurlburtphotography.com.
93. Betsy Johnson – Original watercolor paintings. betsyjohnsonart.com.
94. The Silver Spoon at the Depot Street Gallery – Steven Manning. Transforming silverware into functional art. silverwareart.com.
95. Form and Function Pottery – Jane Wojick.  Functional and sculptural stoneware. janewojick.com.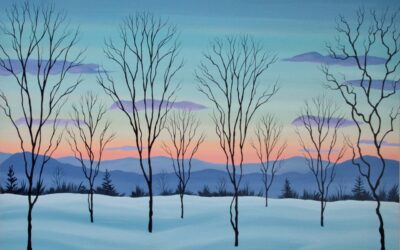 Amy Mosher Art Paintings, Vermont Landscapes Amy Mosher's oil paintings feature scenes of small farms and rural life in Vermont. Visit Amy's studio...