82. Jeremy Ayers Pottery – Jeremy Ayers. Functional, patterned, modern, stoneware, pottery. jeremyayerspottery.com.
83. The Mud Studio – Michael Sullivan. A lively community pottery studio showing the work of 20 potters. themudstudio.com.
84. The Current. A center for contemporary art. thecurrentnow.org.
85. Wind's Edge Studio & Happy Dog Hand Dyed – Marion Philipsen Seasholtz. Quilts, pillows, hand dyed clothing, banners, windsocks. windsedgestudio.com.
86. Seasholtz Glass Design – Matt Seasholtz. Blown glass bowls, vases, weights. windsedgestudio.com.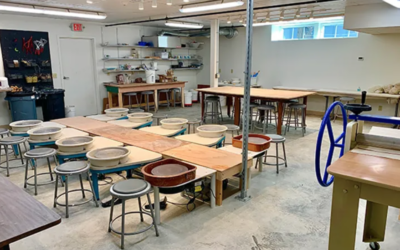 The Current A Center for Contemporary Art Fall Open Studio Map #84 Welcome to The Current Ceramics Studio. This amazing new space supports clay...
read more