3. Bristol Middlebury Loop
25. Ellen Spring Studio. Dyed, painted, silk fiber wearables. ellenspring.com.
26. Robert Compton Pottery. Handthrown functional and decorative pottery. robertcomptonpottery.com.
26. Chris Homer. Handwoven scarves and shawls. robertcomptonpottery.com.
27. Deborah Holmes Watercolors – Deborah Holmes. Watercolors, giclee prints and acrylagouache paintings. deborahholmesart.com.
28. Pamela Fogg Artist – Landscapes, watercolors, trees, travel. pamelafogg.art.
29. Trillium Art & Beyond – Yinglei Zhang.Chinese painting and calligraphy, ceramic, stone and woodwork.
30. Sparrow Art Supply – Art supplies, gallery workshops.sparrowartsupply.com.
31. Mike Mayone Fine Art – Mike Mayone. Paintings, prints, note cards, realism, lessons. Mikemayone.com.
32. True Water Gallery – Molly Hawley. Portraits, landscapes, abstracts, fabric art. mollyhawley.com.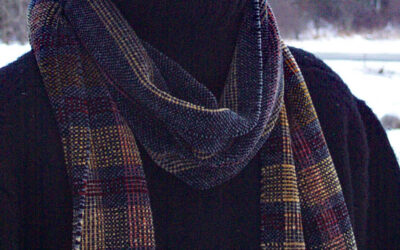 Christine Homer Handwoven Scarves and Shawls Map # 26 "I am mesmerized by the colors and the intertwining of yarns.  Each piece I make is unique in...
read more