12. Warren to Waterbury Loop
Participating artists and galleries are listed alphabetically. Look for the Map # in the text below each listing.
Moosewalk Studios and Gallery – Gary Eckhart and Roarke Sharlow. Watercolor paintings, photography, and giclee prints. moosewalkstudios.com.
The Luminous Moose – Andy O'Brien. Custom stained glass designs. luminousmoose.glass.
Carol Dallas Studio. Oil paintings, plein air paintings, barns. caroldallasart.com.
Mad River Fiber Arts & Mill. Susan Snider. Weaving, yarn, fiber mill, wool. madriverfibermill.com.
Bette Ann Libby Studio. Ceramic shard mosaics, sculpture. Upcycle banner painting. artworkarchive.com/profile/bette-ann-libby.
Blockhouse Studio. Community pottery studio, artisan shop. blockhousestudio.com.
Festival Gallery at Valley Arts. Second annual juried show by the Vermont Watercolor Society. madrivervalleyarts.org.
Mad Women in the Attic – Elga Gemst. Fresh, original, metal and stained glass. madwomenintheattic.com.
Sprout Industry Designs – Kelly O'Hearn. Block prints on paper and clothing.
Jeremy Ayers Pottery – Jeremy Ayers. Functional, patterned, modern, stoneware, pottery. jeremyayerspottery.com.
The Mud Studio – Michael Sullivan. A lively community pottery studio showing the work of 20 potters. themudstudio.com.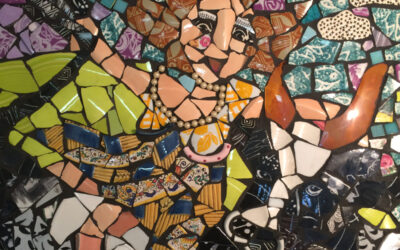 Bette Ann Libby Studio Ceramic Shard Mosaics, Sculpture From pottery to ceramic shard mosaics, painting upcycled banners, mixed media...
read more