75. Luke Iannuzzi Pottery – Luke Iannuzzi.  Raku art and dinnerware sets. lukeiannuzzipottery.com.
76. Salt & Sand Studios – Spencer Kirk-Jackson. Glassblowing, demonstrations, art, gallery, glass. saltandsandstudios.
77. Moosewalk Studios and Gallery – Gary Eckhart and Roarke Sharlow. Watercolor paintings, photography, and giclee prints. moosewalkstudios.com. 
77. The Luminous Moose – Andy O'Brien. Custom stained glass designs. luminousmoose.glass 
78. Mad River Valley Arts – The Mad Contemporary' – A Cartoon and Comic Art Exhibition. madrivervalleyarts.org.
79. Bette Ann Libby Studio. Ceramic shard mosaics, sculpture. Upcycled banner painting. artworkarchive.com/profile/bette-ann-libby.
80. Sasha Walsh Designs. Custom, hand forged jewelry. sashawalsh.com. 
81. Mad Women in the Attic – Elga Gemst. Fresh, original, metal and stained glass. Madwomenintheattic.com.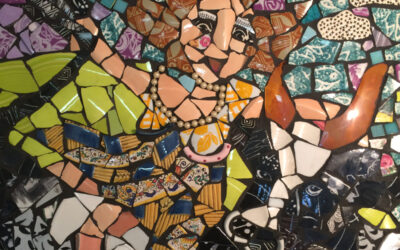 Bette Ann Libby Studio Ceramic Shard Mosaics, Sculpture Fall Open Studio Map #79 From pottery to ceramic shard mosaics, painting upcycled...
read more