3. Bristol Middlebury Loop
Participating artists and galleries are listed alphabetically. Look for the Map # in the text below each listing.
24. Robert Compton Pottery. Handthrown functional and decorative pottery. robertcomptonpottery.com.
24. Chris Homer. Handwoven scarves and shawls. robertcomptonpottery.com.
25. Deborah Holmes Watercolors – Deborah Holmes. Watercolors, giclee prints and acrylagouache paintings. deborahholmesart.com.
26. 7th Circle Glass Works – Kendra Schpok. Stained glass panels. 650 Quarry Rd, New Haven VT 05472. (802) 453-8480.
26. Van Vliet Arts – Karla Van Vliet. Painting, Asemic writing, poetry. vanvlietarts.com.
27. Alice Eckles Studio – Alice Eckles. Drawing, painting, printmaking, photography, clothing. aliceecklesstudio.com.
28. Mike Mayone Fine Art – Mike Mayone. Paintings, prints, note cards, realism, lessons. Mikemayone.com.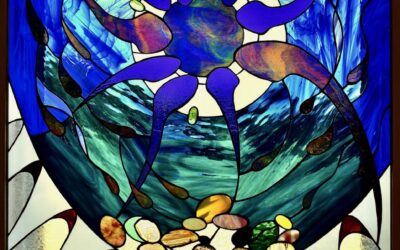 7th Circle Glass Works - Kendra Schpok Custom Stained Glass Panels Inspired by natural forms, organic patterns, and internal landscapes, I...