Northwestern Loop:
Johnson, Bakersfield, Fairfield and Milton
Participating artists and galleries are listed alphabetically. Look for the Map # in the text below each listing.
1. Seasholtz Glass Design – Matt Seasholtz. Blown glass bowls, vases, weights. windsedgestudio.com.
2. Wind's Edge Studio & Happy Dog Hand Dyed – Marion Philipsen Seasholtz. Quilts, pillows, hand dyed clothing, banners, windsocks. windsedgestudio.com.
3. Carol Crawford Handweaver – Carol Crawford. Lush chenille scarves, shawls, blankets, rugs. crawfordweaving.com.
4. Meta Strick. Art dolls, paintings, ornaments, oddities. metastrick.com.
5. Gail Salzman Studio – Gail Salzman. Paintings, notecards, monoprints, drawings. gailsalzman.com.
6. Twisted Perception Metal Works – Rebecca Nase Chomyn. vtsteel.com. Steel sculpture, household ware, utilitarian and decorative.
7. Milton Artists Guild. Work by more than 100 artists. miltonartistsguild.org
8. Nancy Chapman Art. Paintings, abstract watercolor, and oils. nancychapmanart.com.
802 Metal Art. Chuck Jocelyn. Metal Art Studio. https://802metal.wixsite.com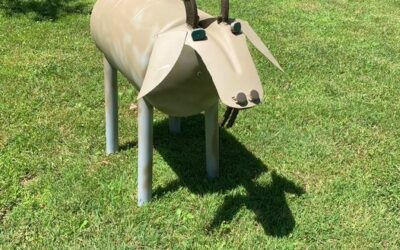 802 Metal Art - Chuck Jocelyn Recycled Metal Art I take salvaged material headed to the junk yard...
read more