4. Orwell to Brandon Loop
Participating artists and galleries are listed alphabetically. Look for the Map # in the text below each listing.
29, Dancing Ear Design – Jill Listzwan. Jewelry, 3D small canvases, paintings.
30. Caleb Kenna Photography – Caleb Kenna. Vermont photography, images, prints, notecards. calebkenna.com.
31. Judith Reilly Studio and Gallery. Original pieced fabric art, artist designed hooked rugs, prints. judithreilly.com.
32. The Brandon Artists Guild. Cooperative gallery for Vermont artists and artisans. brandonartistsguild.org.
33. Joan Curtis. Mixed-media sculpture and painting.
34. Vermont Gallery of Folk Art – Warren Kimble, Robin Kent, Medana Gabbard. vtfolkartgallery.com.
35. Muffy K G Art – Muffy Kashkin Grollier. Needle-felted paintings, small gifts, felting demonstrations. muffykg.com.
36. Mud Puppy Pottery – Andy Snyder. Pottery demonstrations, exhibits and sales. mudpuppypottery.net.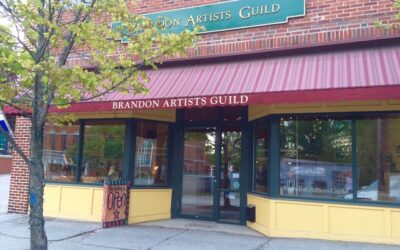 Brandon Artists Guild Visual Artists Non-profit Gallery Phone: (802) 247-4956 Address: 7 Center St, Brandon, VT, 05733...
read more