14. Northfield, Warren, Waitsfield
107. Raven's Nest Studio and Gallery – Kathrena Ravenhorst-Adams. Watercolors, pastels, oils, note cards. ravenhorst-adams.com.
108. Lynn Sarah Newcomb. Lithographs, etchings and drawings. lynnnewcombvt.com.
109. Peter Evans Pottery – Peter Evans. Utilitarian, hand thrown stoneware pottery. peterevanspottery.com.
110. Josh Axelrod Photography – Josh Axelrod. Fine art photography. joshaxelrod.com.
111. Luke Iannuzzi Pottery – Luke Iannuzzi. Raku art and dinnerware sets. lukeiannuzzipottery.com.
112. Salt & Sand Studios – Spencer Kirk-Jackson.
Glassblowing, demonstrations, art, gallery, glass.
saltandsandstudios.com.
113. Moosewalk Studios and Gallery – Gary Eckhart and Roarke Sharlow. Watercolor paintings, photography, and giclee prints. moosewalkstudios.com.
113. The Luminous Moose – Andy O'Brien. Custom stained glass designs. luminousmoose.glass.
114. Mad River Fiber Arts & Mill. Susan Snider. Weaving, yarn, fiber mill, wool. madriverfibermill.com.
115. Stephanie Grace Ceramics – Handmade functional ceramics. stephaniegraceceramics.com.
116. Blockhouse Studio. Community pottery studio, artisan shop. blockhousestudio.com.
117. Mad River Valley Arts – "Design Made Visible: Ceramics, Fibers, Wood & Glass on the Table" from May 3rd-June 22nd. madrivervalleyarts.org.
118. Mad Women in the Attic – Elga Gemst. Fresh, original, metal and stained glass. madwomenintheattic.com.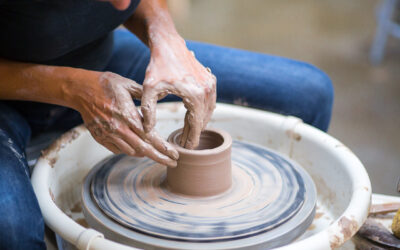 Blockhouse Studio Community Pottery Studio and Shop Map # 116 Blockhouse is a community pottery studio and shop located in the Mad River...
read more