2. Central Chittenden County Loop
Participating artists and galleries are listed alphabetically. Look for the Map # in the text below each listing.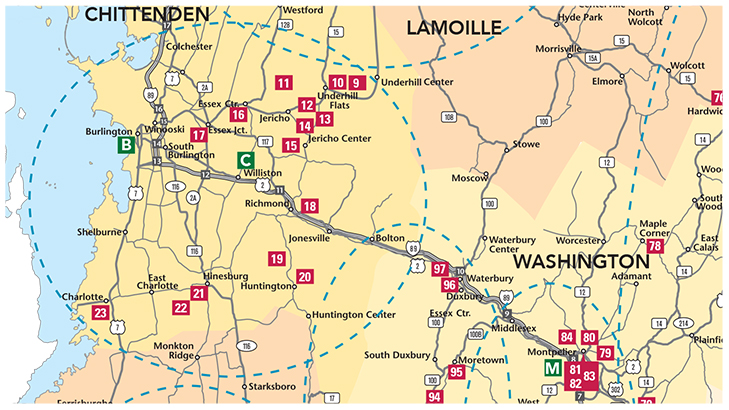 9. Gerald K. Stoner – Gerry Stoner. Whimsical, graceful, welded steel sculpture. geraldkstoner.com.
10. Sweet Enemy Art – Kristin Richland. Imaginative paintings, prints, and spirited creatures. sweetenemyart.com.
11. Rend'l Pottery – Irene Lederer LaCroix. Raku and saggar-fired, pottery, sculpture and tiles. rendlpottery.com.
12. Sugar House Jewelry – Erin Cohen. Fine silver and gold jewelry. sugarhousevt.art.
13. Dianne Shullenberger. Fabric collage, colored pencil, sculpture. dianneshullenberger.com.
14. Wild Mountain Crafters – Laura Kerson. Handmade functional pottery – mugs, bowls, ceramics. etsy.com/shop/WildMountainCrafters.
15. Emile A. Gruppe Gallery. Serving as headquarters for state maps and exhibits of local area artists. emilegruppegallery.com.
15. Fairfield Farm Bowls – Toby Fulwiler. Classic hardwood bowls, lathe demonstration. etsy.com/shop/tobyfulwiler.
16. ArtHound Gallery. Vermont artists, original art and craft works. arthoundgalleryvt.com.
17. The Felted Gnome Knows – Susanne Ryan. Whimsical hats, wool animal/gnome sculpture. thefeltedgnomeknows.com.
18. Meinhardt Design Inc – Jean Meinhardt. Hand-thrown porcelain pottery, micro-crystalline glazes. meinhardtdesign.com.
19. Big Nose Ceramics – Gordon Rowe. Ceramics both thrown and handbuilt.
20. Daryl V. Storrs Artworks – Daryl Storrs. Landscapes, jewelry, woodcuts, pastels, color. darylstorrs.com.
21. Deborah Goudreau – Pottery, sculpture, planters, bird feeders, raku and pitfired works. deborahgoudreau.com.
22. Kathleen Fleming Art, Colorful, contemporary, mixed-media paintings. kathleenflemingart.com.
23. Ginny Joyner. Antique farmhouse gallery. Classes too! ginnyjoynerstudio.com.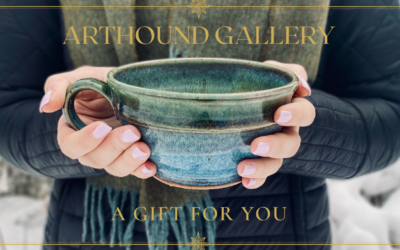 ArtHound Gallery Vermont Art, Originals, Photography With over 300 Vermont Artists and curated VT Products to choose from, there is something at the...
read more