3. Shelburne, Richmond, Charlotte
16. Meinhardt Design Inc – Jean Meinhardt. Hand-thrown porcelain pottery, micro-crystalline glazes. meinhardtdesign.com.
17. Daryl V. Storrs Artworks – Daryl Storrs. Landscapes, jewelry, woodcuts, pastels, color. Darylstorrs.com.
18. Lisa Kent – soft pastel paintings, prints and notecards.
18. Jennifer Ashline. Painting, drawing, oil  pastels. lovewellartstudio.com.
19. Deborah Goudreau. Pottery, sculpture, planters, bird feeders, raku and pitfired works. deborahgoudreau.com.
20. Kathleen Fleming Art. Colorful, contemporary, mixed-media paintings. kathleenflemingart.com.
21. Scot Keefe – Bowls, knives, wood and metal sculptures.
22.Tom Wright – Abstract oil paintings and mixed media drawings on paper. tomwright.work.
23. Ginny Joyner. Antique farmhouse gallery. Classes too! ginnyjoynerstudio.com.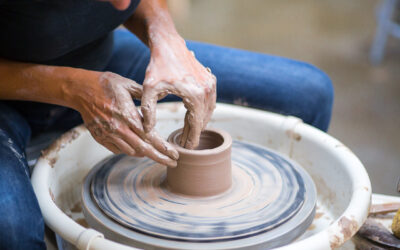 Blockhouse Studio Community Pottery Studio and Shop Blockhouse is a community pottery studio...
read more