16. Marshfield, Danville, Cabot, Woodbury
128. Blackthorne Forge – Steven C. Bronstein. Functional and sculptural, contemporary ironwork. blackthorneforge.com.
129. Joe's Pond Craft Shop – Deborah Stresing. Showing the work of area artists. joespondcrafts.com.
130. Back Roads Farm – Sandy Pond. Pottery, functional, spiritual, sculptural, Judaica. vermontcrafts.com/back-roads-farm.
131.  Vermont Rughooking Studio – Sandy Ducharme. Hooked wool rugs and rug hooking supplies. vermontrughookingstudio.com.
131. Klingler Woodcarving and Art Gallery. Ken Klingler. Woodcarving, decoys, wildlife art, large sculpture, commissions.
vermontcrafts.com/klingler-woodcarving-and-art-gallery
132. Hillcrest Adirondack Furniture – Richard Ducharme. Adirondack furniture, chairs, gliders, loveseats and porch swings. hillcrestchairs.com.
133. Susan Sawyer. Botanical drawings. 556 King Pond Rd, East Calais VT 05650. (802) 456-8836. vermontcrafts.com/susan-sawyer.
133. Annie Sawyer. Handcarved Spoons and Woodenware. vermontcrafts.com/annie-sawyer.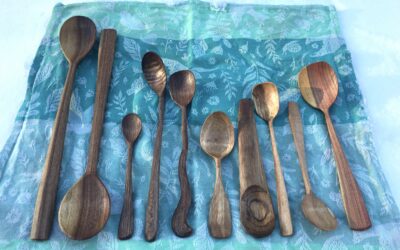 Annie Sawyer Handcarved Spoons and Woodenware Map # 133I use traditional hand tools (froe, axe, drawknife and carving knives) to create beautiful,...
read more