13. Newbury, W. Fairlee, Tunbridge, Randolph
100. Hidden Springs Studio and Gardens – Robert Chapla. Seasonal, varied, bold, semi-abstract landscape paintings. robertchapla.com.
101. Jean Forsberg. Colorful, vibrant, lyrical, grounding paintings. jeanforsberg.com.
102. Country Spirit Baskets – Dona Nazarenko. Handwoven baskets, many styles and sizes. countryspiritbaskets.com.
103. Allen Hill Press – Jeanne Amato. Original, hand-pulled woodblock prints and etchings. jeanneamato.com.
104. Grace and Evan Pottery – Grace Pejouhy and Evan Williams. Functional wheel-thrown, hand decorated pottery. graceandevanpottery.com.
105. Third Branch Pottery – Stephanie Tyler. Community clay studio, clay supplies and classes. thirdbranchpotterysupply.com.
106. White River Craft Center – Kimball House. Photography, weaving, woodworking. whiterivercraftcenter.org.
106. Melle Finelli Jewelry – Melissa Finelli. Hand fabricated sculptural jewelry. mellefinellijewelry.com.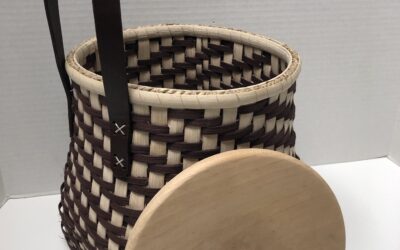 Country Spirit Baskets Traditional, Handcrafted Baskets, Classes Map # 102 Doña Nazarenko has been weaving since 1988 and teaching since 1994. At...