10. Washington to Craftsbury, Barre, Cabot, Calais Loop
Participating artists and galleries are listed alphabetically. Look for the Map # in the text below each listing.

Washington to Craftsbury Loop
This is our longest loop, taking about 48 miles from beginning to end. It consists of several mini-loops that can be easily connected with main roads.
Romulus Craft – Ikuzi Teraki and Jeanne Bisson. Handbuilt, handcrafted sculptural forms, bowls, vases, cups. romuluscraft.com.
Wiltse Art – Craig Wiltse. Semi-abstract, symbolic paintings. wiltseart.com.
Studio Place Arts. Exhibits, studios, workshops, sculptures, history. studioplacearts.com.
Travel from Barre to Rte 2 in E. Montpelier on Rte 14N.
Blackthorne Forge – Steven C. Bronstein. Functional and sculptural, contemporary ironwork. blackthorneforge.com.
Back Roads Farm- Sandy Pond. Pottery, functional, spiritual, sculptural, Judaica. 2
Vermont Rughooking Studio – Sandy Ducharme. Hooked wool rugs and rug hooking supplies. vermontrughookingstudio.com.
Cabot Art Barn. Exhibiting local Cabot artists. cabotartbarn.com.
Follow Rte 215 to Rte 15 and go east to Rte 14, then south to Hardwick or north to Craftsbury.
Ruby Charuby Weavings – Ruby Leslie. Handwoven scarves. rubyleslie.com.
Ken Leslie. Artist's books and paintings. kenleslie.net. 244 Carey Rd, Hardwick VT 05843. (802) 473-2112. Follow directions in Ruby's listing.
Vermont Glass Workshop – Harry and Wendy Besett. Functional and decorative handblown glass. vtglass.com.
Head south on Rte 14 to Cherry Tree Hill Rd south of E. Montpelier. Travel to County Rd and turn right to Maple Corner and Calais.
Art at the Kent. Interplay. The works of 20 Vermont artists span a broad variety of genre and media, engaging the Kent's distinctive rooms and inviting visitors to see in new ways. kentscorner.org.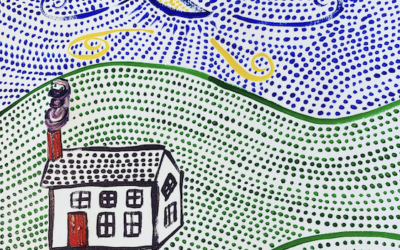 Birren Kirby - Anne Birren Kirby Watercolor, Acrylic, Oil Paintings Anne has two directions of styles. Contemporary abstract and folk art. Somewhat...