18. Hardwick, Montpelier, Marshfield, Lyndonville
A2. Borealis Studios – Devin Burgess and Jerilyn Virden. Blown glass and pottery.
87. Ruby Charuby Weavings – Ruby Leslie. Handwoven scarves. rubyleslie.com.
87. Ken Leslie. Artist's books and paintings. kenleslie.net.
88. Alexandra Bottinelli – Withdrawn
A1. Bear Works Studio – Stu Hall. Stoneware Pottery for Daily Use
89. Art at the Kent.Traces. The works of 20 Vermont artists span a broad variety of genre and media, engaging the Kent's distinctive rooms and inviting visitors to see in new ways. Kentscorner.org.
90. Back Road Textiles – Francette Cerulli. Spinning, knitting, quilting, patterns (clothespin bags and their patterns). backroadtextiles.com.
91. North Branch Stories – Deborah Bogart. Watercolors of nature, people and abstracts.
92. Katie O'Rourke Art – Katie O'Rourke. Acrylic and oil paintings and classes.
93. May Day Studio – Kelly McMahon. Quirky paper goods, letterpress, bookbinding. maydaystudio.com.
94. Blackthorne Forge – Steven C. Bronstein. Functional and sculptural, contemporary ironwork. blackthorneforge.com.
95. Back Roads Farm – Sandy Pond. Pottery, functional, spiritual, sculptural, Judaica. vermontcrafts.com/back-roads-farm.
96. Hail Mary – Mary Tapogna. Mosaics, lamps, portraits, animals, commissions. marytapogna.com.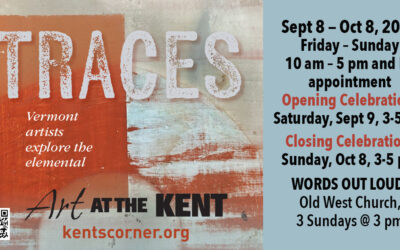 Art at the Kent Contemporary Art at an Historic Site Fall Open Studio Map #89 Art at the Kent mounts one extraordinary exhibition late each...
read more