5. Castleton to Rutland Loop
Participating artists and galleries are listed alphabetically. Look for the Map # in the text below each listing.
Carrie Pill. Vibrant, Vermont-inspired, oil paintings. carriepill.com.
Karen Deets Stained Glass. Panels, jewelry, supplies, mobiles, garden art. karendeets.com.
Stragnell Art – R Sanford Stragnell. Unique sculptures inspired by nature..
WITHDRAWN DUE TO ILLNESS. Otherweis Limited – Dick and Nancy Weis. Encaustics, painting, collage, drawing. otherweis.com.
Rising Meadow Pottery – Nicholas Seidner. Gallery, kilns, studio, seconds, pizza! risingmeadowpottery.com.
Nature's Turn, LLC – Gerry Martin. Woodturned bowls and vessels.
Braided in Vermont – Lois Johnstone and Kathy Detko. Braided rugs and chair pads.
Birren Kirby – Anne Kirby.Watercolor, acrylic, oil paintings. (Killington is just off the map to the right of Mendon.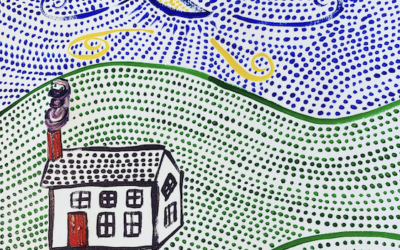 Birren Kirby - Anne Birren Kirby Watercolor, Acrylic, Oil Paintings Anne's style is a unique blending of Grandma Moses and Roy Lichtenstein — dots...
read more